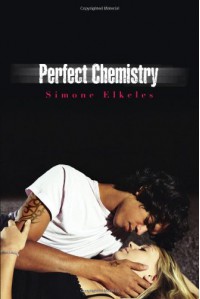 Goodreads Synopsis: A fresh, urban twist on the classic tale of star-crossed lovers.

When Brittany Ellis walks into chemistry class on the first day of senior year, she has no clue that her carefully created 'perfect' life is about to unravel before her eyes. She's forced to be lab partners with Alex Fuentes, a gang member from the other side of town, and he is about to threaten everything she's worked so hard for: her flawless reputation, her relationship with her boyfriend, and the secret that her home life is anything but perfect.

Alex is a bad boy and he knows it. So when he makes a bet with his friends to lure Brittany into his life, he thinks nothing of it. But soon Alex realizes Brittany is a real person with real problems, and suddenly the bet he made in arrogance turns into something much more.
Review:
I was really excited to read this story as it had gotten great reviews and it had been on my tbr for forever. However, I was slightly disappointed.
We have your typical good girl and bad boy from the wrong side of the tracks story. These kind of stories are my guilty pleasure so this wasn't the issue. I loved the start of the book and even the middle but by the end I wasn't impressed.
I did like the aspect of Brittany's home life not being sunshine and rainbows and how she didn't fit in the typical rich girl category. Her mom seemed like a right b***h and at times I just wanted to shake her and tell her to grow up. I loved how Brittany took care of her sister and loved her more than anything. She would do anything to help her which was really admirable.
However, the structure of this book was all over the place. The author would skip to different scenes and different moments in time without warning. We would be in the middle of one scene and the next we're jumping to two weeks later which was a bit confusing at times.
That epilogue was also the most cheesy ending I have ever read. I'm all for a happy ending but its okay to leave their future to our imagination.
I am now going to talk about certain things that happened so if you haven't read the book then continue at your own risk :P
Okay so lets talk about this drug deal. At this point Brittany has told Alex that she loves him (bit soon but alright) and although he hasn't told her we know he has feelings for her. She tries to convince him not to do it but of course he doesn't listen to her. Then the minute she gets into her car and drives away he suddenly has a change of heart, where did that come from? She hadn't broken up with him or said anything to him that would get him thinking so that decision came out of nowhere. This happened throughout the book where the main characters would just feel a completely different way out of the blue. For me this didn't give the story much flow and was like the author would just switch their feelings so the story could go her way faster.
Up next we have the 5 month separation. Alex told Brittany he only slept with her for a bet (half true) and that he doesn't have feelings for her (lies) so she obviously is upset by this. Alex then drops out of school and of course we skip to 5 months later where Brittany is still moping around heartbroken. I know she loved him but she hasn't seen or talked to him in months and should at least be trying to move on at this point. This didn't sit well with me as her life shouldn't revolve around him.
Then we all of a sudden are another 5 months into the future and Brittany is off at college but Alex shows up to apologise to her and they get back together and live happily ever after….umm no. This was not at all realistic, Brittany wasn't even angry at him for a second for breaking her heart and then ignoring her for 10 months! Instead she just took him back like nothing had happened. Again the author just wanting the happy ending without doing any of the work.
This book had a lot of potential and like I said I did enjoy aspects of the story but as a whole it just didn't do it for me. I am going to read the next book as I'm hoping this series can be redeemed.